The Lootian Core has innovated at every step, and our social communication product is no different. We first looked at issues we experienced from social media, such as (but not limited to) spamming, bots, trolls, sponsored advertising, influencer rewards, the visibility of games and marketplaces, and so on. Then, we looked at the Lootian ecosystem, created a thesis to solve these issues, and built an MVP quickly to confirm or evolve that thesis in practice.
The result amalgamates some functionalities from Facebook, Twitter, Whatsapp, WeChat, Zendesk, and FAQs rolled up in one feed. This is combined with some novel functionalities built atop the Lootian Map, a Google-like platform (closing the slider reveals the map). We would be grateful for user feedback to evolve our alpha and currently very barebones product.
Lootmarks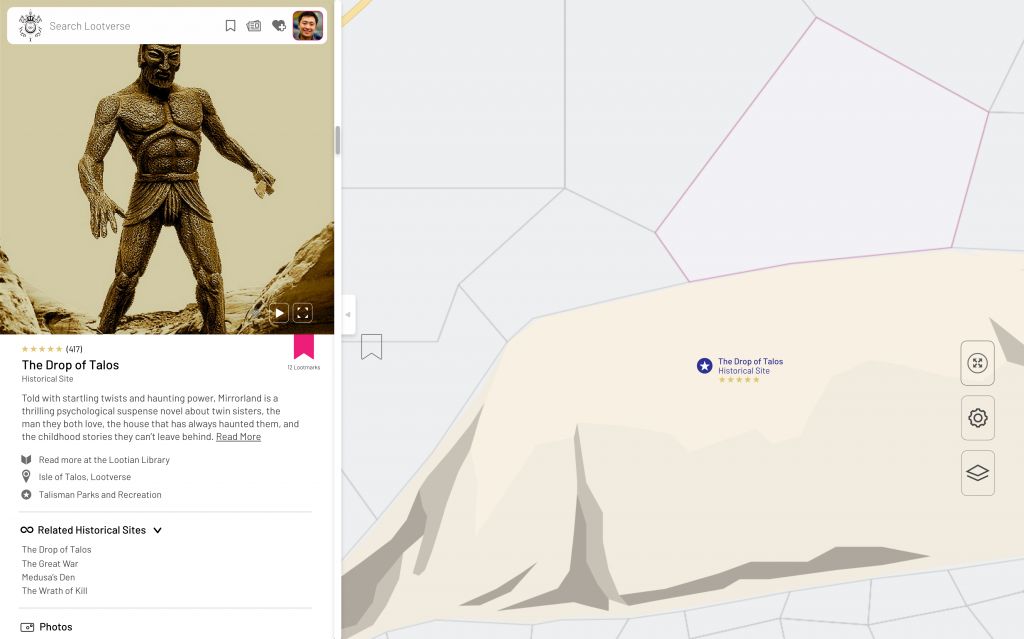 This is similar to Twitter's follow and unfollow functionality. Search for users, vendors, and landmarks, then press the "Lootmark" icon. However, for each Lootmark, you must pay a minimum of 0.02 LTT. Half of it is burned, and the other half is given to the person who was Lootmarked. At the base level, this is about 14 US cents. The person Lootmarked may also set up a "Swear Jar," which escrows Lootian Tickets (LTT) as a good behavior bond. If the person misbehaves and gets banned, this bond is burned. Unless the person Lootmarked unbans the follower, that person may not Lootmark them again.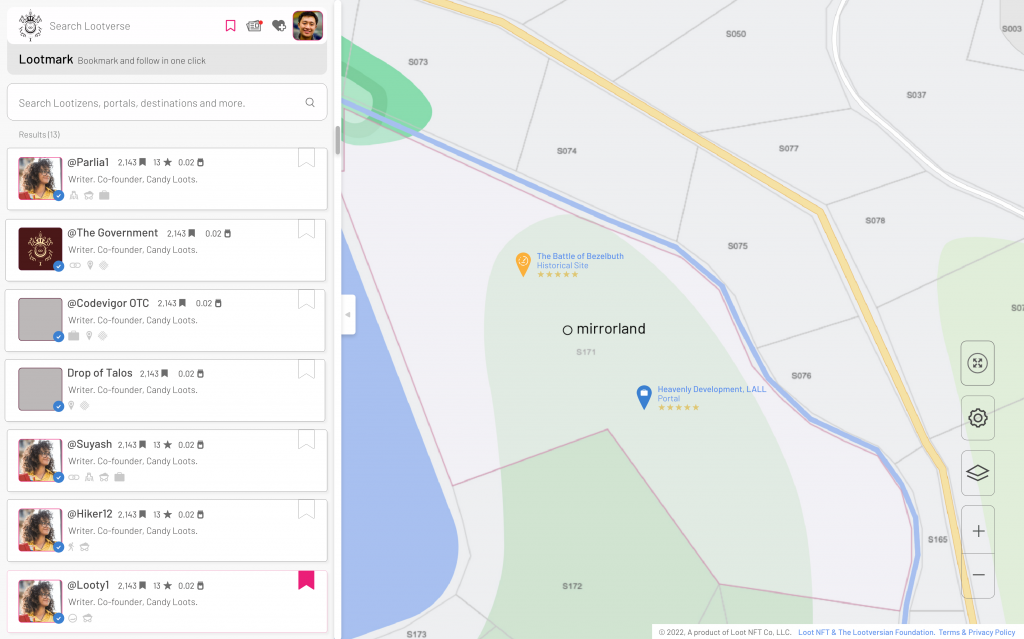 Our thesis is that it should reduce the use of spam accounts, inflating follower count (since it has a cost). It will also negatively impact a user for misbehaving. Additionally, It will allow for the creation of exclusive groups where people can increase the Lootmark and Swear Jar fee for Lootmarks. Lastly, it will reward people you Lootmarked as well, benefiting all users equally. Later, those you Lootmarked may have other conditions attached, such as must be a verified user, etc. Combined, we believe this could create quality communication as opposed to volume.
Lootfeed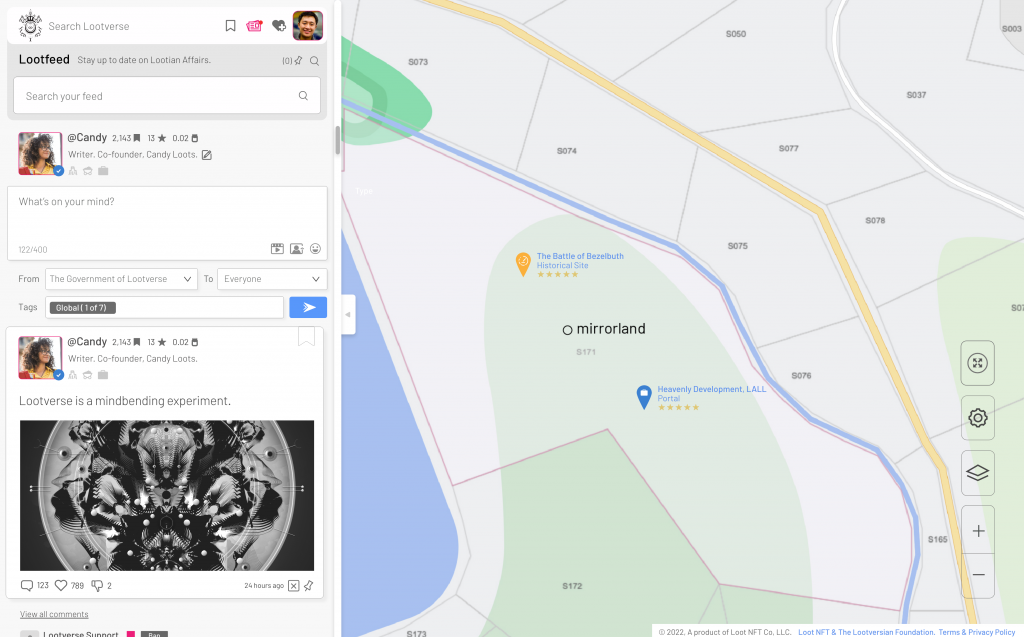 Lootfeed is where information is pushed to and between users. Lootizens can update a short bio of 20 characters or less, set their Swear Jar (if any), and post to their followers in one to one, one to many, or one to everyone formats. They can also ask questions to the Lootian Administrators privately or publicly and query the Library for support questions previously asked. In the future, this can evolve to posting items for sale where anyone in the feed can pay for them instantly, directly from the post.
The first five posts and the first five comments by any user are free. After that, a fee of 0.01 LTT is paid for a post and 0.001 LTT (or approximately $0.007) per comment. For each comment, the author of the post receives 0.0005 LTT. A "like" or a "dislike" costs the same as a comment.
System-generated or global posts will sometimes appear, such as the location of a God or a Demon, Lootian governmental notices, quizzes, weather advisories, etc.
Influencer Recognition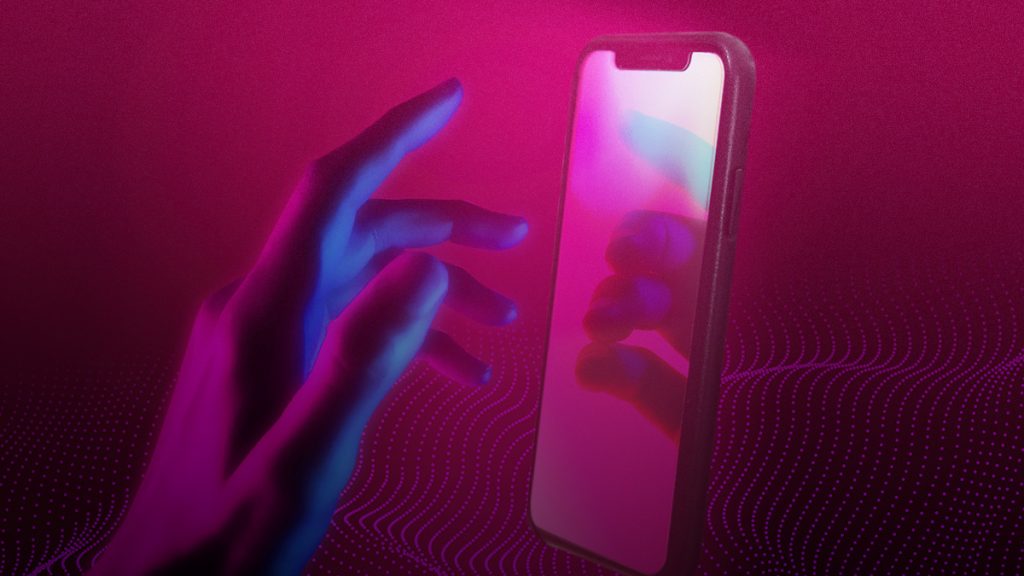 The Lootian social media does not have sponsored ads or posts. Instead, this is replaced with global posts by those at the higher ladder of the Lootian Hall of Fame. Those ranked between 1 and 25 can post up to seven times as global posts per week. These are posts that appear in all Lootizens' feeds. After that, ranks 26 to 100 can global post up to five times per week, 101 to 250 can global post up to three times per week, and between 251 and 500 only once a week.
Observations From Our Thesis
(a) Those in the top 500 of the Hall of Fame have disproportionately more visibility than anyone else. Effectively, they are positioned as the Lootian Influencers. Since the point system is cumulative, early adopters are more likely to keep an advantage over latecomers since they would have to catch up whether by spending, playing, or donating. We can add further points for behaviors that the community wants to drive.
(b) It puts a cap on user-generated global content (the alternative to sponsored ads). Approximately 1,250 such posts can exist every week, thereby limiting commercial content. Influencers could work out deals to post content for an advertiser, turning them into influencer AdWords.
(c) It gamifies the social media experience in many aspects, such as the more comments on a post, the more the influencer makes, the more they can donate, and the more they can keep being at the upper echelon of the Hall of Fame. In addition, no longer only those with the most money can become an influencer since those that play and engage with the activities of Lootverse can climb the Hall of Fame ladder. 
The Test Drive
This is a recently released alpha product. Due to that, it may present minor malfunctions in parts, and some things may not work as intended. As has been the case before, we will iterate quickly to refine it, upgrade and continuously add functionalities to improve the product.