You can expect things to be unique on your tour to Royaume de Satoshi, from magnificent mountains and stunning coastal sceneries to historical sites that are part of the Lootian cultural heritage. This region is the house of Satoshi's Lounge, Lootverse's official marketplace, and many other must-see landmarks that you will learn more about today. So join us for this short expedition across one of the most authentic kingdoms of this parallel world.
Great Mountains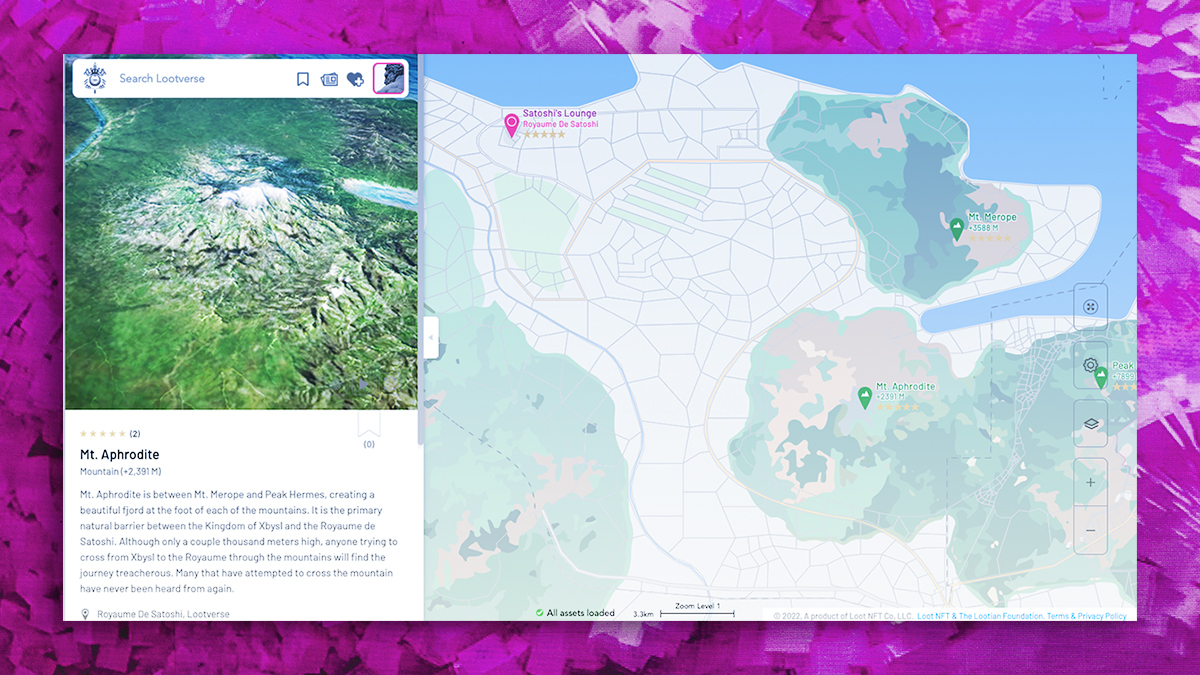 A great natural barrier stands between Royaume de Satoshi and the Kingdom of Xbysl, and everything surrounding it is a wonder to the eyes. Two gigantic mountains are part of this unique geological formation. Mt. Merope, with 3,588 meters of altitude, is located in the northeast and has become famous for its wine production.
Following the border to the south, travelers can find Mt. Aphrodite. With 2,391 meters of altitude, this elevation might not match its pair in the views, although it has been considered a strategic military frontier to protect the region against different enemies over the years. Its trails are treacherous even for local communities, and many stories are told about inexperienced adventurers who dared to explore the place without guidance and were never seen again.
Le Grand Mur Du Nord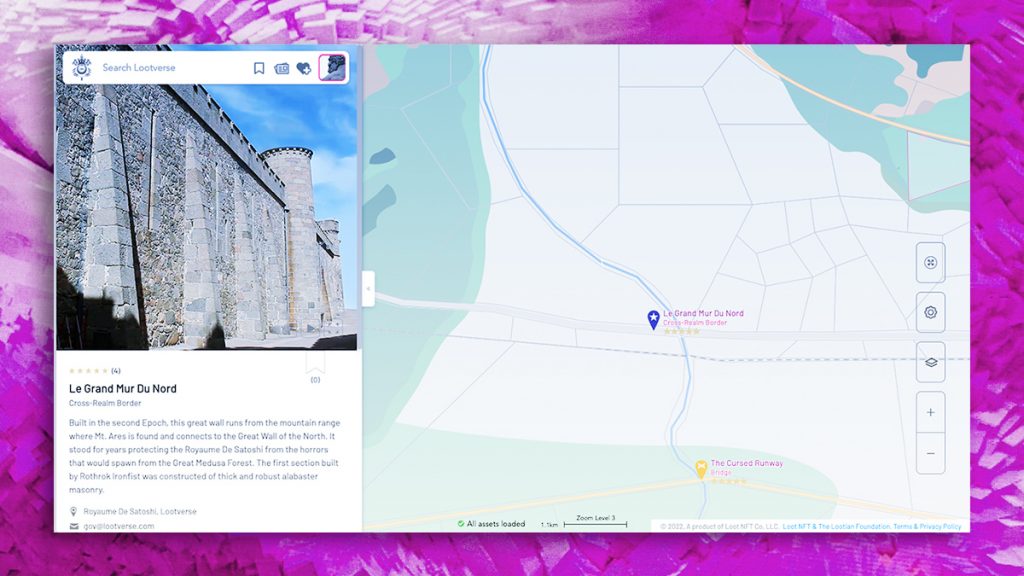 This impressive wall reaches about 30 feet tall and 15 feet thick. It was built as part of the pact between the Visskin, the race created by Viss (Goddess of Intelligence), and the Dwarves created by Jord (Goddess of Land). Le Grand Mur Du Nord was elevated at the beginning of the Second Epoch by Rothrok Ironfist, the first king of the Dwarves. This imposing structure was, for many centuries, the primary protection from beasts, demons, enemies, and even the dangers coming from the Great Medusa Forest.
Historical Buildings and Sites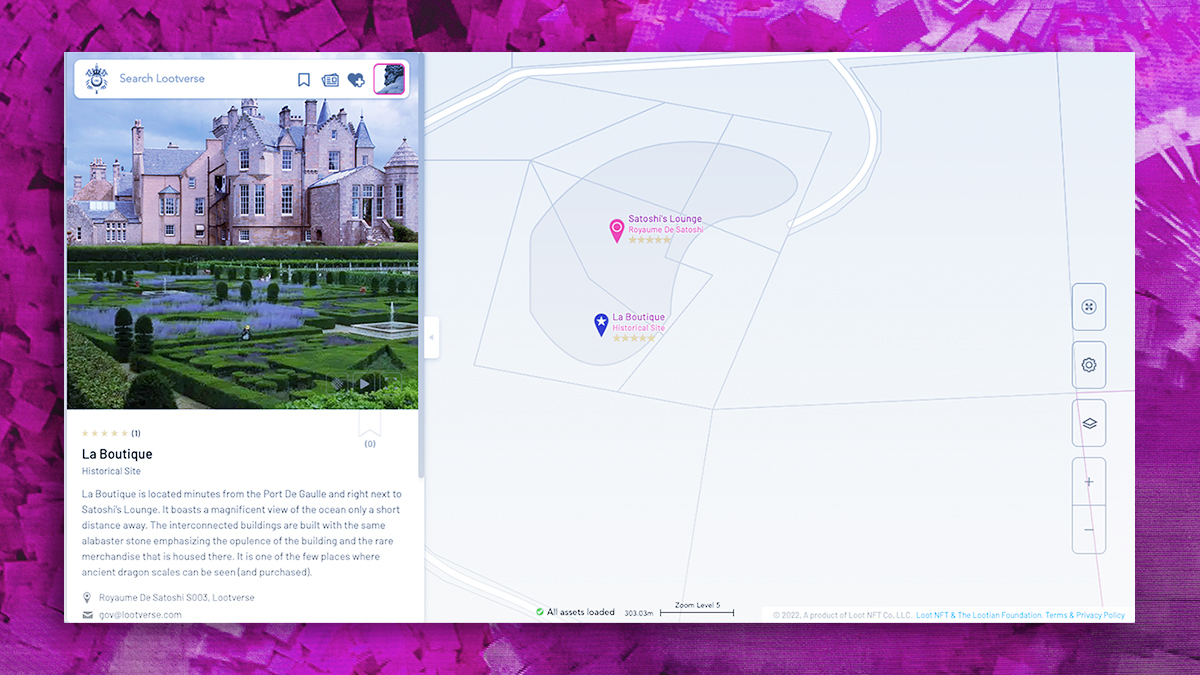 Royaume de Satoshi also holds buildings and sites documented as part of the Lootian history. La Porte Royale is definitely one of them. Home of the Visskin and the original house of the Vishkin Lineage of Kings and the Triad of Knowledge, it is one of the largest and most prominent buildings in the region. Tourists interested in the cultural aspect of this world must also pay a visit to La Boutique, one of the most renowned market districts in the area. Almost everything used to be traded in this place, from dragon scales to rare and fragrant seasonings.
And for those who are into the Lootian military legacy over the Epochs, a notable landmark to explore is Porte Feuille, a historical site named after Zalazar Feullie, the defender of Satoshi. This destination became popular during the Third Epoch when Zalazar led fifty of his most skilled archers to hold off a horde of Galdarians numbering over a hundred soldiers.
Harbour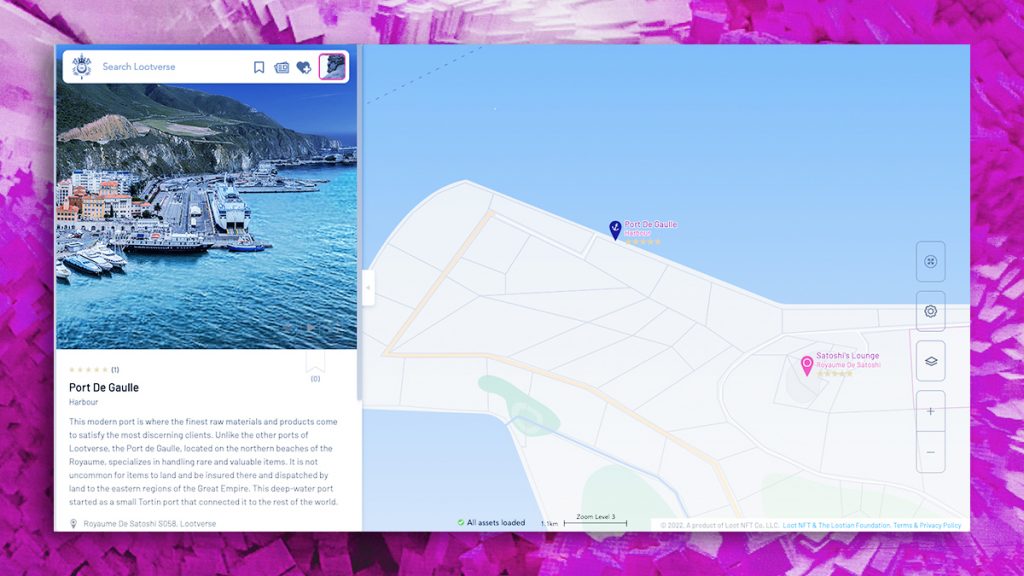 As an independent and highly developed region, Royaume de Satoshi has a modern and well-equipped deep water port. Port De Gaulle processes raw materials and products, supplying the residents and providing necessary items for the closest districts outside the kingdom. Ancient tales describe this location as the place where Ver (God of Water) would drive vessels lost in the Lootian seas to save their sailors.
Satoshi's Lounge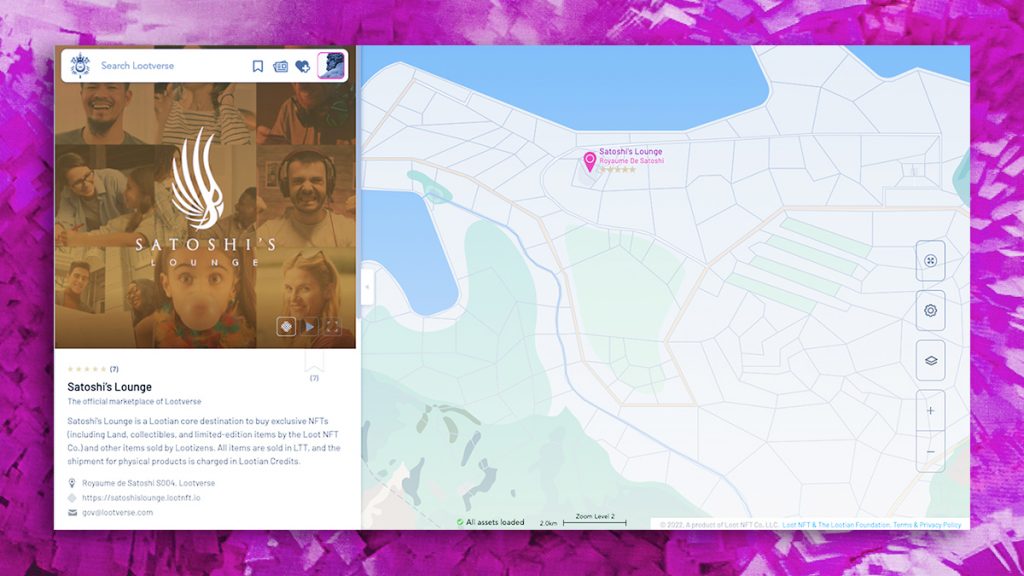 Last but not least, this region is famous for the trade and deals sealed by its districts since the first Epochs. So it is not incidental that this is the home of Lootverse's official marketplace: Satoshi's Lounge. All essential items needed in all kingdoms can be found there, including properties for those who dream of being a landowner.
Physical products such as collectibles are also a trend in the marketplace. Soon, SL will offer avatars, shields, weapons, potions, cars, and many other unique items to leverage your experience as a Lootizen. All purchases are powered by Lootian Tickets (redemption currency), while shipping is paid with Lootian Dollars (stable coin).