The gaming industry is experiencing a boom, with many attributing the increase to the pandemic forcing people to seek new forms of entertainment and others linking it to the emergence of streaming and the metaverse, which provides new possibilities for gamers. According to Statista, a market research company, the global gaming market is expected to reach a total value of $268.8 billion annually in 2025, compared to $178 billion in 2021.
A report from gaming data firm Newzoo in April showed that the global esports audience is expected to grow 8.7% yearly, reaching over 532 million users in 2022. The report also found that esports enthusiasts, people who watch esports more than once a month, will exceed 261 million. Regions such as Southeast Asia, Latin America, the Middle East, and Africa drive this growth, adding depth to the expanding market.
To gain a deeper understanding of this moment in the industry, The Lootverse Gazette spoke with influencers, creators, and gamers worldwide who are fully immersed in this fascinating and unpredictable space. The first interview in this series is with Quentin Rebb, GamersX3, one of the top gaming content creators on YouTube and TikTok in South Africa. Rebb's fun and engaging approach to streaming has earned him an impressive social media presence. Check it out!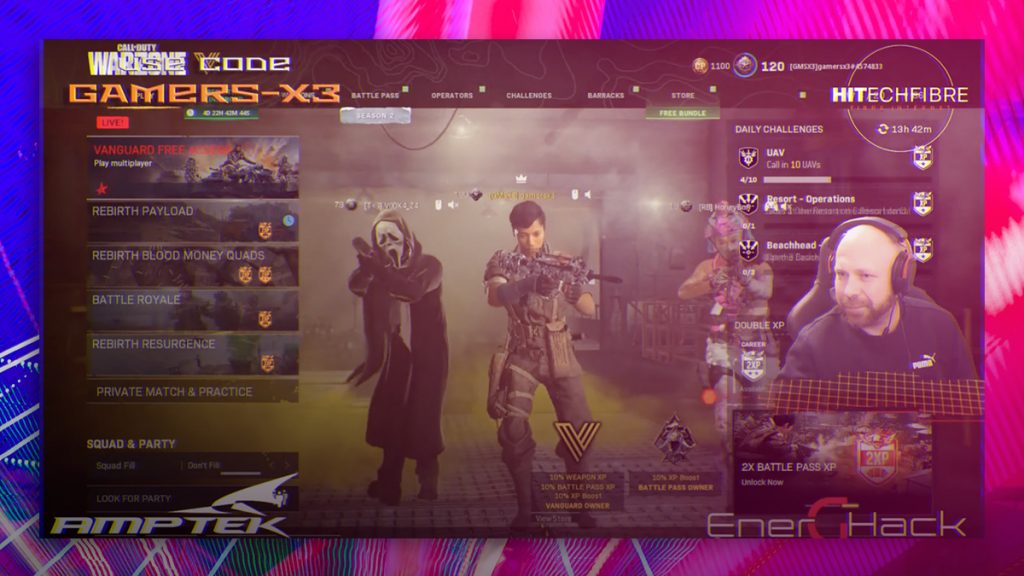 Gaming Profile
You've paved your road in the gaming industry in South Africa, one of the largest markets in Africa. Have you always been a gaming enthusiast?
I have always been somewhat into gaming. One of the things many South Africans and others around the world do not understand is the size of gaming. Like most gamers, I was just a casual gamer, playing GTA 5 story mode on my off days. Chilling with my Xbox 360 was one of my favorite pass times. Then, I decided to go into gaming a little more, watch streamers and check out the pro community.
The region has presented high potential gamers this last couple of years. Do you get inspiration from all those talented players? Who do you admire the most in this field?
Let us start with Don Plays, he has not streamed in a while, but he was the first South African streamer I have noticed. If it was not for Don, I would never have gotten into streaming. He is the reason I got my first-ever gaming pc. He doesn't even know this.
The second is Luca Rakic. The kid is a legend.
Then ChubsC. He is not a big streamer himself and does not play competitively, but he has supported and watched over the South African Fortnite community since I started. I don't get into contact much with him, but he is the person responsible for my own stream overlays and he is also the person who made me believe it is possible. I knew nothing about streaming, and he just randomly helped me set everything up one day without asking anything in return. If It was not for Chubs, I think many South African gamers would not be where they are today. He is always helping and always trying to find ways to make competitive gaming easier for South Africans on higher ping than their competition. He does not get the recognition in the Fortnite community or gaming community he deserves.
What games do you have on your bucket list?
Well, my first goal is to upgrade my Warzone account and get my guns gold. I'm the only known streamer who does not have golden guns. Then I would really love to try out some scary games, I just don't know what. I also kind of want to check out the Metaverse. Apparently, it's going to be the place to be.
If you were to live in any game of your choice, which game would you live in and why?
Fortnite, so I can ask Ruby out on a date.
Content creation
What influenced you to make content out of your love for gaming?
I have always been into gaming and fitness. Fitness was my career, and I have a talent for finding ways to make a passion a career. Unfortunately, during covid-19, as a fitness professional, you were not allowed to work.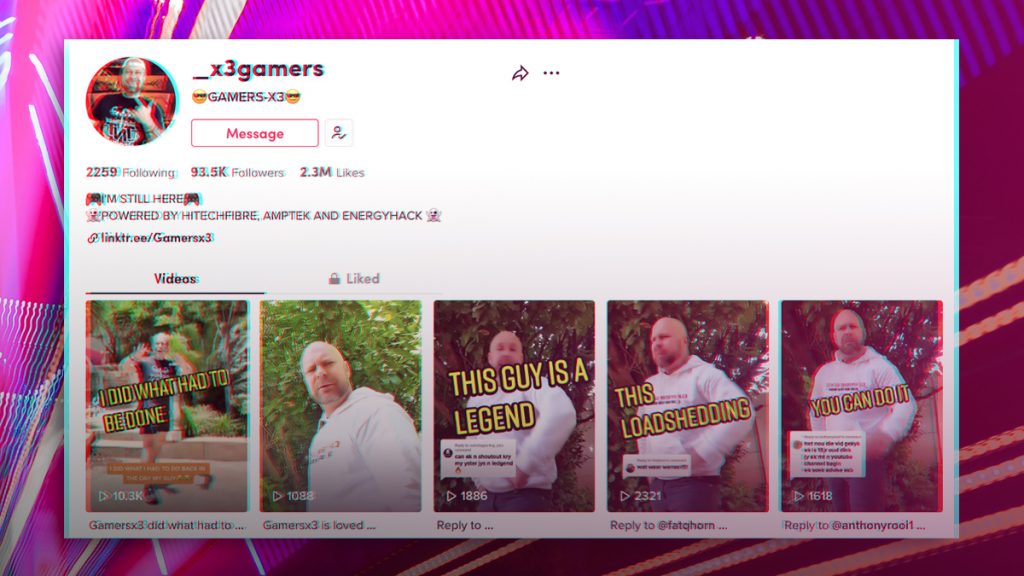 You have 93K followers on Tiktok, over 20K on Youtube, and starting to grow your presence on Twitch too. How do you see the streaming opportunities for gamers?
Correction, I have 93k followers on 1 of my TikTok channels and 20k on 1 of my Youtube channels. Haha.
I think the dream to become a YouTube streamer is the modern-day version of moving to Hollywood in hopes to star in a movie. If you stayed at home and never went to Hollywood, you would never star in a movie, but if you moved, you would have a shot. Many people want to do it, but they never start, or they start, but because of fear, they never put all their efforts in. I don't think people understand the amount of work it took the Hollywood stars to become a star or the dedication they have.
YouTube and streaming are not easy, but not impossible. If you are prepared to learn and to do what it takes and not give up, every single person can become a streamer. Once you hit the 10,000 following mark, the opportunities are endless, but to get to that 10,000 means you will have to do what others won't.
Do you believe streaming might become saturated one day? What would be the next innovation in the industry, in your opinion?
There are already millions of people streaming. If you have ten people watching your Twitch stream, you are in the top 5% of all streamers of Twitch. That gives you the idea of how many people are streaming and trying to make it as a streamer. The difference is that the top 5% stands out from the rest, they have found a way to be unique and give their audience something to watch.
As more and more people start watching streaming platforms like Netflix, more people also start watching YouTube and Twitch. Even though there are millions of people trying to make it as a streamer, I don't think we have even started to reach the first vertical climb in streaming, I think billions will start streaming, and even more will be there to watch. You just have to stand out. Also, with things like TikTok helping random people become famous, streaming still has a long way to go. Facebook and Youtube are relatively new to streaming games, and I still think they got in early.
Tik Tok is popular and primarily adopted for fun and entertaining content. Do you think gamers should embrace comedy to stand out, given this new audience behavior?
Yes, as I have said, you have to stand out, so you should either be good enough to beat Nick and Ninja in a game, or you should find some way for people to want to watch you other than your ability to wipe a gaming lobby.
Metaverse
What comes to mind when you hear the word "Metaverse"?
A digital world where you live in, game in, and basically will be able to do anything.
Metaverses are known for offering users a combination of rich virtual experiences that mimic real life in a gamified way. How would you say South Africa has received this new phenomenon?
I do not think it has become popular in South Africa yet. We are a little behind the rest of the world. South Africans tend to wait for other countries to start it first and then when it's too late to take full advantage, we will start. I think I should start exploring the metaverse and showing people what it is all about.
What impact the Metaverse could have on the gaming space, in your opinion?
My first game was marbles on the playground, then I played Tetris on a small plastic device with no color. Then, I played mortal combat at the Caffe after school. Then, I played snake on a phone, and after that, I played Doom on a PC with Minecraft graphics. Then I had TV Games with Mario Bros. On the same TV Games, we played FIFA with my friends at home. They all use to sit in my grandmother's lounge and had to bring a tin of coffee and milk and sugar as an entry fee otherwise they drank out all the coffee from the house.
Then, I had my first PlayStation 1, PlayStation 2 and I skipped the PlayStation 3 and went to Xbox 360 and PSP. And here I am today, playing online games with hundreds of of people from all over the world with a gaming PC. Each evolution in gaming has changed it forever and the Metaverse will change it forever too.
Follow GamesX3
Tiktok: https://www.tiktok.com/@_x3gamers
YouTube: https://www.youtube.com/channel/UCY4cYwfM0gib2flITh1ZsFQ
Twitch:https://www.twitch.tv/ttvgamersx3
Facebook: https://www.facebook.com/gamersx3Rtnl
Instagram: https://www.instagram.com/_gamersx3/
Twitter: https://twitter.com/Sx3Gamer