In Lootverse, users control avatars in a parallel world similar to Earth.
They participate in various activities, such as bidding battles, politics, financial games, and wars, to gain power and recognition. To succeed in this game, users must use skill and strategy the same way they might in the real world. At the end of each year, the top 25 avatars are honored and rewarded for their achievements, much like, the "Times Person of the Year" of a parallel reality.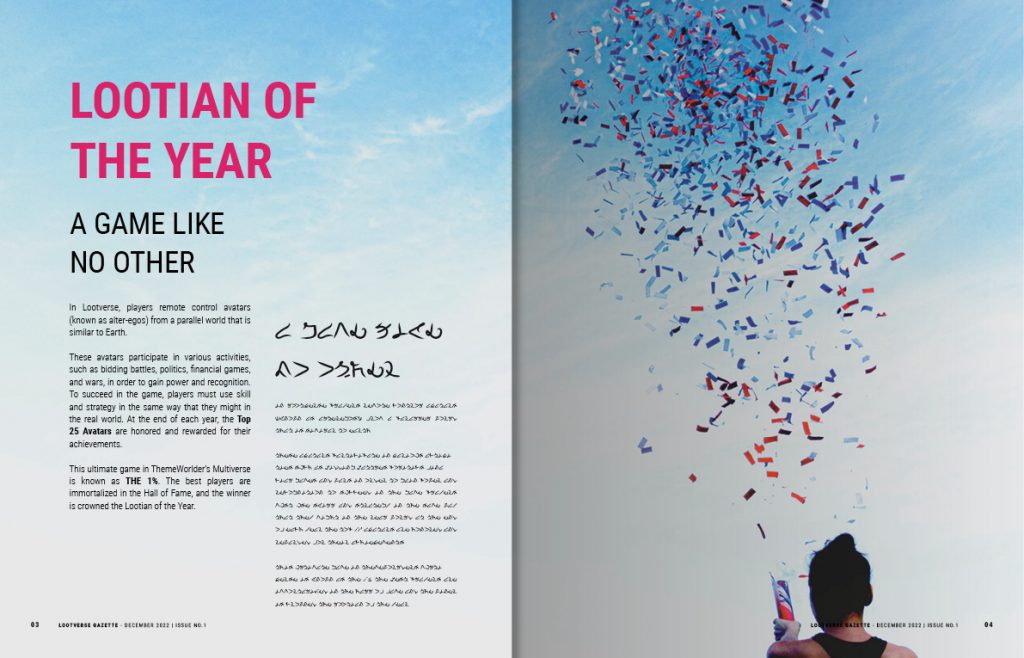 Apollyon Conquers All
Apollyon is the Lootian of the Year 2022.
He was a dominant force in 2022 and achieved impressive victories consistently. He managed a staggering 10,530.13 Fame Points this year by winning 34 unique NFTs and rewards in the battle-bidding Arena, setting new records, and making a significant impact on the game.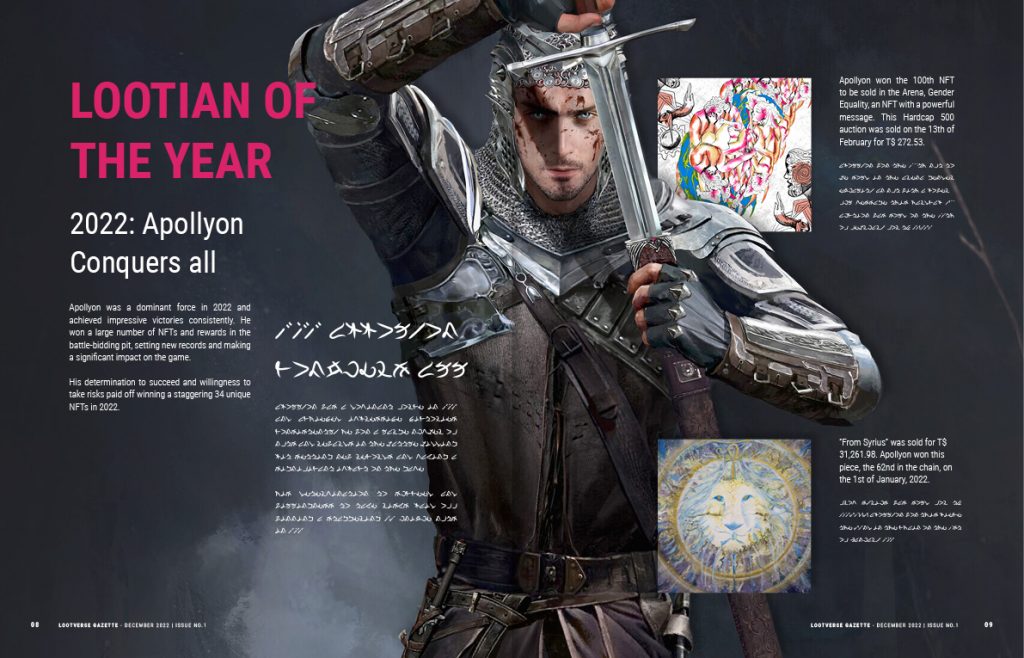 Illiad, ElonMusk and St4R
Illiad (3,230.22 Fame Points) had a strong showing this year, coming in second place. He won 19 NFTs, including two from the prestigious "Keepers of the Flame" set. Illiad's impressive NFT inventory is only 15 behind the leader, Apollyon, demonstrating his skill and determination as a miner. Despite not coming in first place, Illiad's achievements are impressive.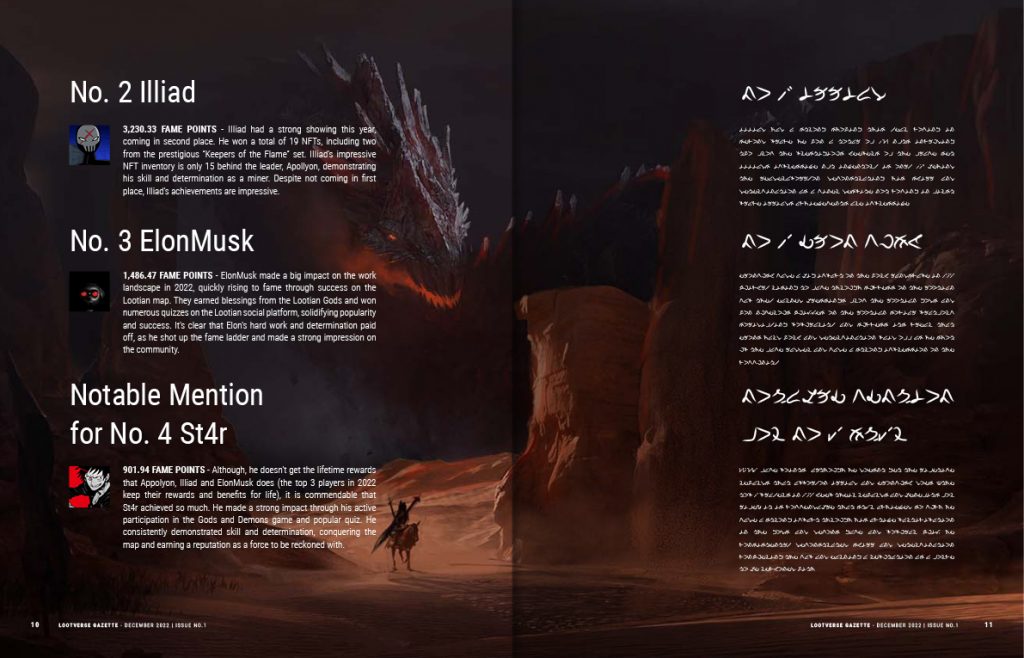 ElonMusk (1,486.47 Fame Points) greatly impacted the work landscape in 2022, quickly rising to fame through success on the Lootian map. They earned blessings from the Lootian Gods and won numerous quizzes on the Lootian social platform, solidifying their popularity and success. Elon's hard work and determination paid off, as he shot up the fame ladder and made a strong impression on the community.
Although St4r (901.94 Fame Points) doesn't get the lifetime rewards like for Apollyon, Illiad, and ElonMusk (the top 3 players in 2022 keep their rewards and benefits for life), it is commendable that he achieved so much. He made a strong impact by actively participating in the Gods and Demons game and popular quiz. He consistently demonstrated skill and determination, conquering the map and earning a reputation as a force to be reckoned with. To note that St4r was trailing Chavi (876.35 Fame Points) one week before the end of the year.
The 1% Game, A Game of Life in a Parallel World
The rules are posted on the map pin (search for Hall of Fame). To recap:
The aim of The 1% is to achieve the highest level of influence, so you can shape discourse in the Multiverse.
Each year, users have 12 months (from 00:00 UTC on 30 December to 23:59 UTC on 29 December) to earn as many Fame Points as possible. Rewards include being an influencer on Lootian social, as well as other benefits that will be announced later.
The top 3 users of each year will retain their benefits permanently.
The top 500 users will retain their tiered level of benefit for an additional year starting on 30 December. If a user achieves a better tiered benefit during the year, it will apply immediately. If a user does not play and has a worse level of benefit than the previous year, they will keep the benefit from the previous year until the end of the year.
More opportunities to earn Fame Points will be added shortly.
The rankings of all users will be displayed under The Famous tab (current year) and the Hall of Fame tab for each year.
To participate in The 1%, users must follow the rules and guidelines set forth by the game's administrators.
Following the resetting of the Fame Points, any user that was previously a user and that logs in will automatically receive 25 fame points.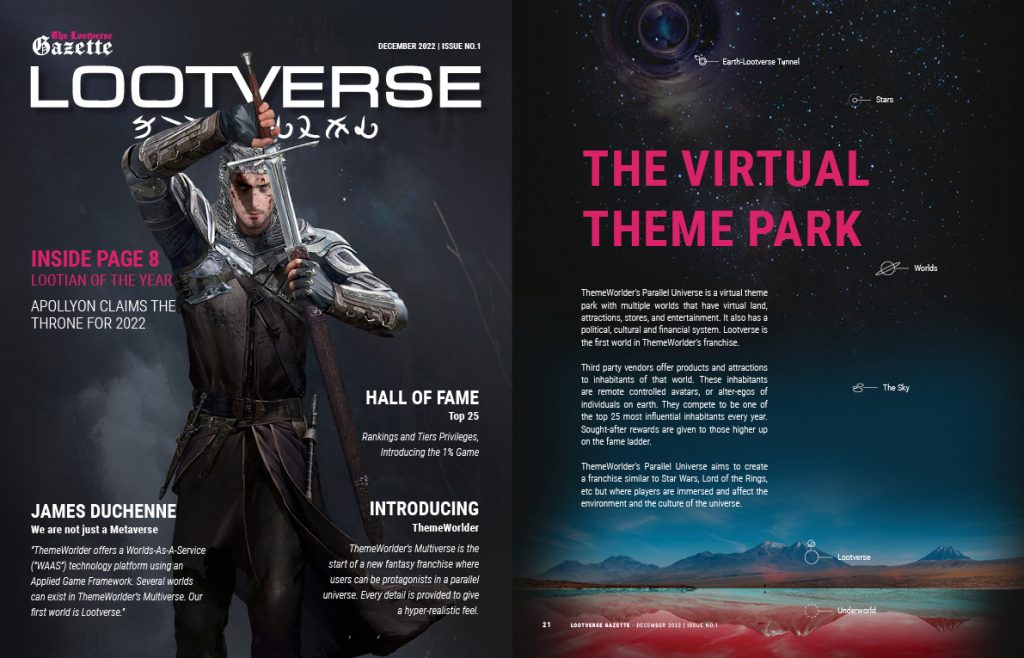 About NeoWorlder's Parallel Universe
NeoWorlder's Parallel Universe is a virtual theme park with multiple worlds that have virtual land, attractions, stores, and entertainment. It also has a political, cultural, and financial system. Lootverse is the first world in NeoWorlder's franchise. 
Third-party vendors offer products and attractions to inhabitants of that world. These inhabitants are remote-controlled avatars or alter-egos of individuals on Earth. They compete to be one of the top 25 most influential inhabitants every year. Sought-after rewards are given to those higher up on the fame ladder.