Life is like an amusement park. You have a limited time to enjoy it, so play all the rides before the time ends." – Divya Manikumar.
NeoWorlder is completing its build of the next generation of Theme Parks: a hyper-realistic virtual one with real-world economic interactions and activities without brick-and-mortar infrastructure. The cliché of the "Uberization" of everything and software taking over traditional business models applies here, although that was not NeoWorlder's initial intent.
Indeed, our evolution into a virtual Theme Park came through innovation, problem-solving, and several iterations from user feedback while building a virtual world within the metaverse. As background, a Theme Park is an amusement destination designed around a central theme or divided into areas with different themes. Numerous ingredients go into building a Theme Park. The resulting experience must feel immersive, entertain visitors, be fun and rewarding, and offer opportunities for stores and commercialization.
NeoWorlder's virtual theme park is built around a framework (also called the NeoWorlder framework) with a parallel universe theme, complete with virtual land, government, attractions, stores, entertainment, history and culture, science, and more. The first parallel world in this universe is Lootverse, which also acts as an anchor world with some specific functionalities only available there.
The NeoWorlder Framework portrays Lootverse, the anchor virtual environment.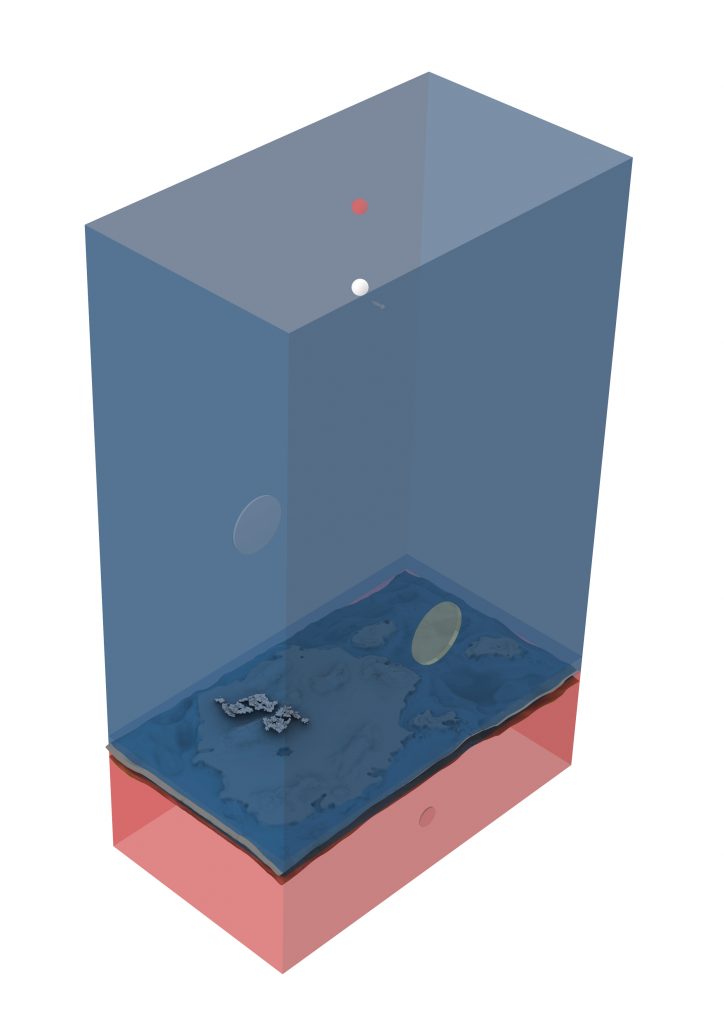 For example:
(a) Lootverse is a rectangular-shaped world at the bottom of the universe, above which the "sky" can contain multiple parallel worlds or space structures. The right to build a world or structure in the sky is only granted to Lootian virtual landowners (to note, legally, each virtual district is a license entitling its owner the ability to do certain things). Different types of licenses exist, granting different rights;
(b) In this parallel world, users who run out of health are sent to the Underworld, an area with limited features (represented as an inverted reddish world). Health points act as a de-facto monthly subscription fee, which costs less than a dollar per month;
(c) Lootverse is also where the transactional currency of the virtual theme park, the Ticket or TIX, is mined from the Lootian Arena. However, users can pay in the in-world token, Dollars (T$), which is pegged 1 to 1 to the US Dollar (note that users in Lootverse only – as opposed to other worlds – can also pay in TIX);
(d) Lootian 3 (previously the Fund) is the enterprise site for vendors and web3 users across the virtual Theme Park. All ecosystem fees for vendors (e.g., get a license to operate a store, mint NFTs, etc.) must be paid in Tickets, which are burned (i.e., removed from the ecosystem). Vendors are a general term for users that sell a product or service in-world or create other worlds. Several gamified interactions exist within the virtual Theme Park, and most users aim to finish in the top 20 at the end of each year. This status level grants significant benefits not dissimilar to a loyalty program. Much has been written about the technology behind the world that combines Web 3 and Web 2 infrastructures, a blockchain bridge, AR, VR, 2D, gaming, etc.
Our work is still ongoing, and our timeline has been pushed back to the end of the first quarter of 2023 due to some rework of our core infrastructure. Additionally, the revamp of our user interface had been met with delays (e.g., the Lootian 3 UI revamp was initially supposed to contain dozens of interactions and about 50 pages, but this was underestimated four-fold).
We continue to grow our team to manage the various components that make up our product. Once our NeoWorlder website is released, we will provide a significant update on NeoWorlder's virtual theme park, the work done to date, and our 2023 plan.
Read More: Coding Lootverse: Behind The Scenes of a Parallel World