During our exploration of Lootverse, we encountered peculiar celestial objects in the Lootian skies, which we initially referred to as stars. These objects, numbering around 1,000 as far as we could estimate, are small, radiant, and circular. They are not stars in the traditional sense and are found at various distances from Arcadia. Surprisingly, they were not mentioned much in the Arcadian Echoes and are not present in the Underworld.
In an effort to better understand these celestial objects and involve Earth's artistic community, we initiated a unique project in 2021 that invited artists from diverse backgrounds to create works of art to give each of these stars an identity. This project was designed to coincide with the issuance of a native currency in the Lootian virtual representation (gated world) based on Arcadian monetary theories and financial systems. This collaborative endeavor allowed human artists to participate in naming and providing a story for the stars, signifying the first act of colonization of Lootverse while providing a practical test for the implementation of Arcadian monetary theories.
These theories, which we uncovered from the Echoes—stories of the land—indicated that money was issued to bidders at timer-based auctions proportional to the amount they bid. The winner received a prize, while all participants were issued Arcadian currency. Each bid required a small payment, which was spent and not returned, and players were allowed to place only one bid at a time. A bid received in the last 15 seconds reset the timer back by 15 seconds. The last person to bid before the timer expired won the prize.
The reproduction of this process can be experienced with the Arena application at lootverse.com. In this application, the prize is an NFT artwork, and the artist is forever memorialized along with the title of the artwork, which becomes the star's name. The story behind the artwork is adopted as the star's official backstory.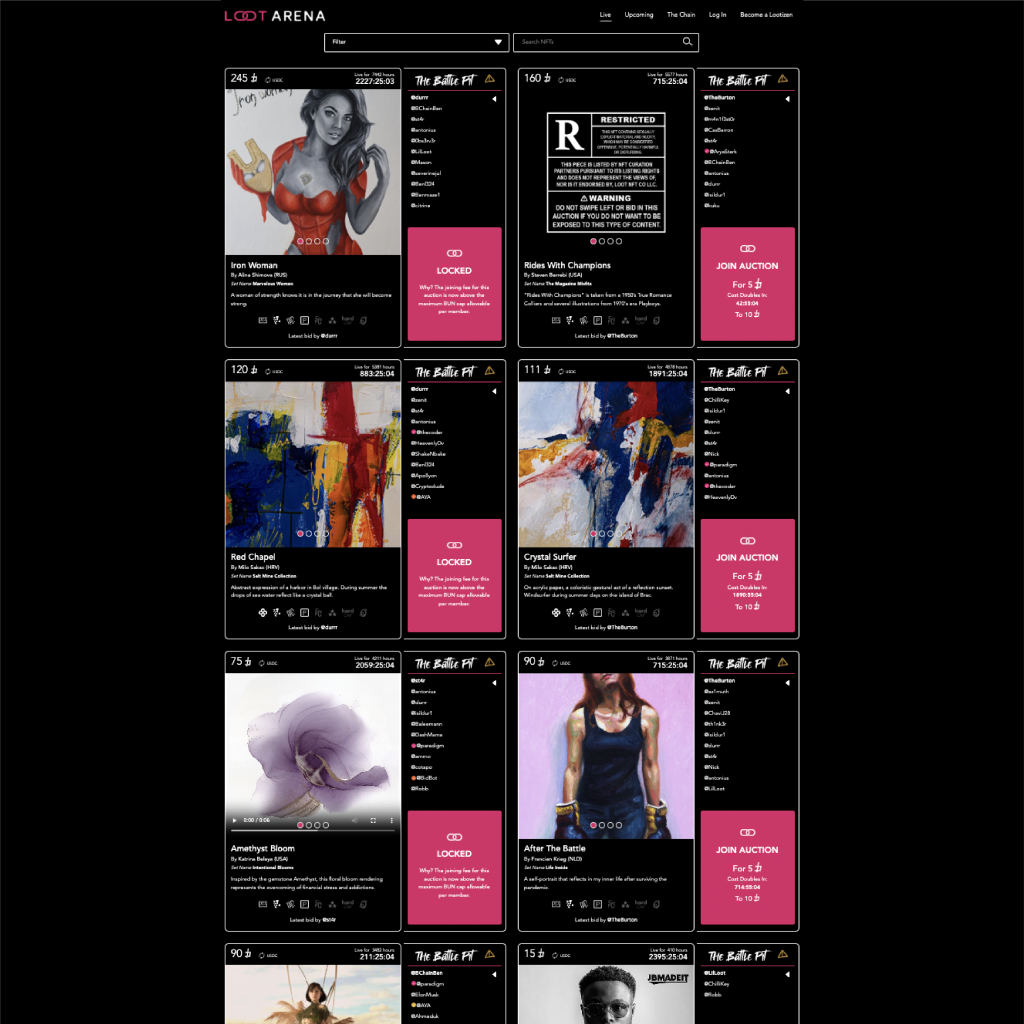 The stars are then grouped under specific art themes, known as constellations, akin to the human practice of identifying star patterns. This information is documented on Lootverse's website, essentially creating a virtual star map within its digital version of Lootverse. Visitors can explore the stars, learn about their stories, and discover the artists responsible for naming and giving meaning to these celestial objects. This virtual space resembles a massive art gallery. Owners of the artworks have the privilege of possessing pieces associated with these stars and the option to relist them for sale if desired.
This innovative approach not only enriches the understanding of Lootverse but also fosters a creative connection between our world and this enigmatic universe.
Read More: Lootverse: The Origin Story