In the kingdom of Olympus, ruled by the deity Kempe, the ancient oracle of Arcadia delivered a prophecy of Sir Eustace's fate in the underworld. The Oracle was a trusted counsel for Kempe, having provided guidance for countless decisions. In fact, it was the Oracle's wisdom that led Kempe to choose Eustace as the knight entrusted with the exploration of El Territorio. As the prophecy unfolded, it revealed a dire circumstance: Sir Eustace had been deceived by Wongliang, a merciless demon, and led into the underworld. His fate there was to remain enchained, enduring four hundred years of torment. The Oracle's somber prophecy cast a heavy shadow of worry over Kempe. Driven to act, he devised a plan. He summoned Viss, the goddess of wisdom and strategic warfare, to aid Sir Eustace with her insights.
Meanwhile, in the chilling depths of the underworld, Sir Eustace languished as a prisoner and bore his shackles with a heavy resignation. These cold, relentless chains also metaphorically represented Wongliang's cunning deceit and a constant reminder that Sir Eustace was at the trickster's mercy. His spirit, once ablaze with courage and determination, flickered weakly, casting only a shadow of its former glory.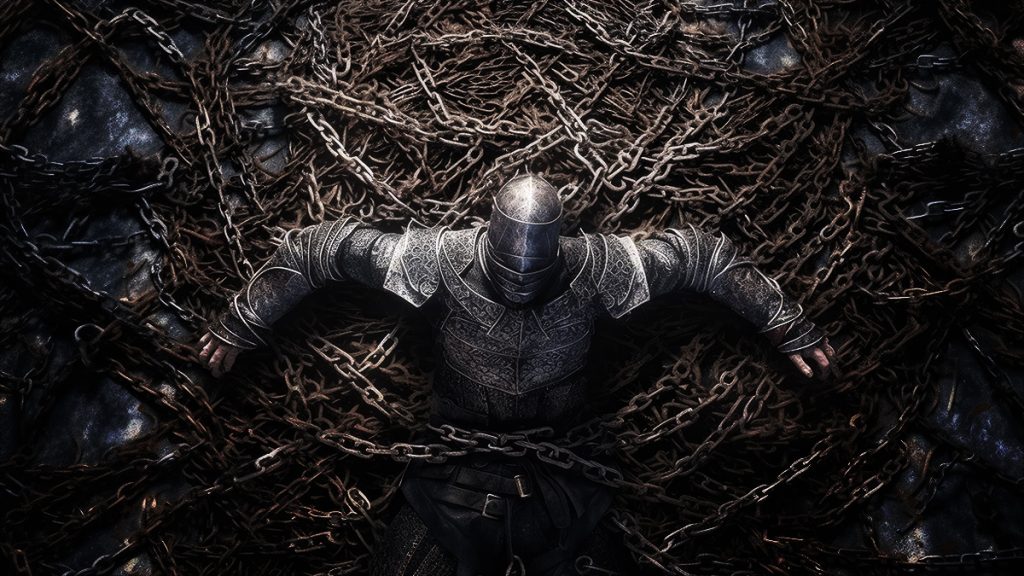 Back in Olympus, Viss and Kempe crafted a plan using the essence of righteousness. This beacon of instruction and guidance, once completed, was intended to reach Sir Eustace. It would provide him with a divine connection to Kempe and Viss to give him the strength needed to escape. This beacon was sent on its journey to Sir Eustace in the form of a radiant bird, a symbol of hope, resilience, and wisdom.
In the underworld, Eustace was grappling with his chains when the divine bird of light suddenly appeared. A sense of peace and hope washed over him as he locked eyes with the creature. The radiant bird spoke to Eustace, carrying Viss' voice. She shared her strategic insight, equipping Eustace with the means to outsmart Wongliang and free himself. This encounter reignited Eustace's spirit, setting him on a challenging journey out of the underworld.
Armed with Viss's strategic insight, Eustace began to observe Wongliang's routine in the underworld closely. He noticed that Wongliang relied heavily on a mystical amulet – a small object prized for its presumed magical benefits. It was believed to possess specific powers, including the ability to weaken enemies rendering them vulnerable. Eustace realized that this amulet, worn around Wongliang's neck, held the key to his escape.
Over time, Eustace adopted a facade of obedience and resignation, gaining Wongliang's trust. He utilized this trust to his advantage and asked Wongliang to teach him about the underworld, pretending to want to understand his predicament better. Wongliang, pleased with Eustace's apparent submission and desire to learn, accepted his request.
While still shackled in chains, Eustace managed to analyze the amulet, studying its intricate designs and deciphering its magical essence during these 'lessons.' He realized that the amulet was powered by a magical spell that Wongliang muttered under his breath. With his keen hearing, Eustace discerned the words of the incantation.
Seizing an opportune moment, Eustace boldly reached for the amulet when Wongliang was distracted. Reciting the incantation he had learned, Eustace shocked Wongliang as the amulet reacted to his voice. The shackles around Eustace's wrists fell off and began to bind Wongliang instead, suppressing the demon's power. Now, wearing the amulet around his own neck, Eustace found himself under its protection and guidance.
Eustace capitalized on this moment to make his escape reciting the words that would transport him out of the underworld and to El Territorio. He was greeted by the glorious sunrise of his homeland, signaling his triumphant return and heralding the start of a new era of peace and prosperity. In the end, Eustace outwitted the cunning demon at his own game.