We embarked on a journey to refine our websites, aiming for a cohesive, streamlined, and user-friendly experience. Now, after thorough brainstorming, testing, and various iterations, we're nearing completion.
Satoshi's Lounge, similar to our Government site, is one of our core platforms, serving as the official marketplace for purchasing Arcadian properties and assets. These assets – such as avatars, wearables, armory for games, transportation, and more – are usable within Arcadia. While retaining its core functionality, the new site now brings you additional features and enhanced usability.
The homepage of Satoshi's Lounge mirrors the structure and general feel of the Government site, demonstrating a consistent brand identity across our platforms.
The dashboard provides a one-stop overview of all the features available on Satoshi's Lounge, offering quick shortcuts for effortless navigation. It allows you to peek at ongoing auctions and available items at a glance, streamlining the user experience.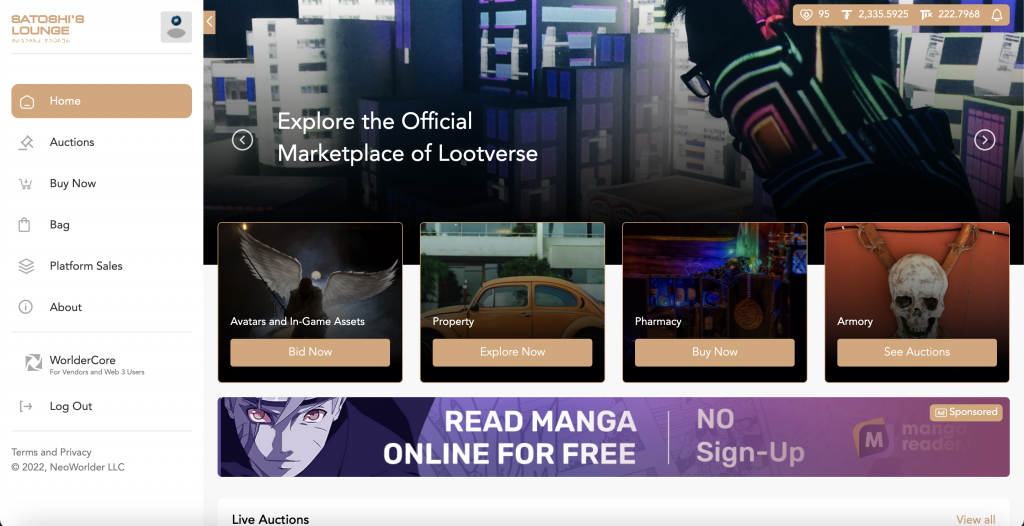 We've updated the user interface for our 'auctions' and 'Buy Now' sections, now featuring more brands and a wider range of product categories. Additionally, portal operators will soon have the ability to resell their properties and assets at Satoshi's Lounge, providing additional channels to generate revenue.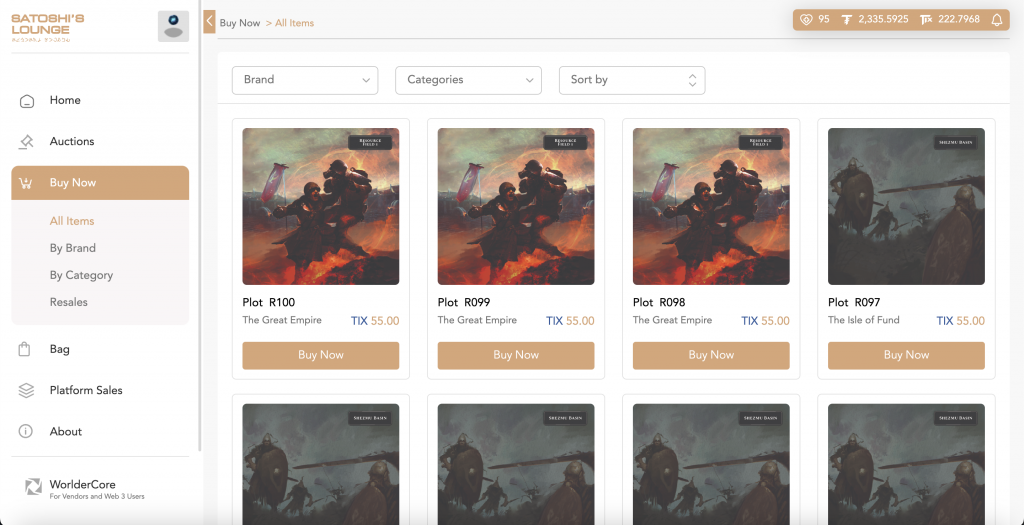 We've improved our bag feature to provide a more intuitive and user-centric experience for shoppers. Users can now effortlessly ship their physical products through a robust shipping management system. Additionally, our shopping bag interface now features optimized filters, ensuring a seamless navigation of properties and assets.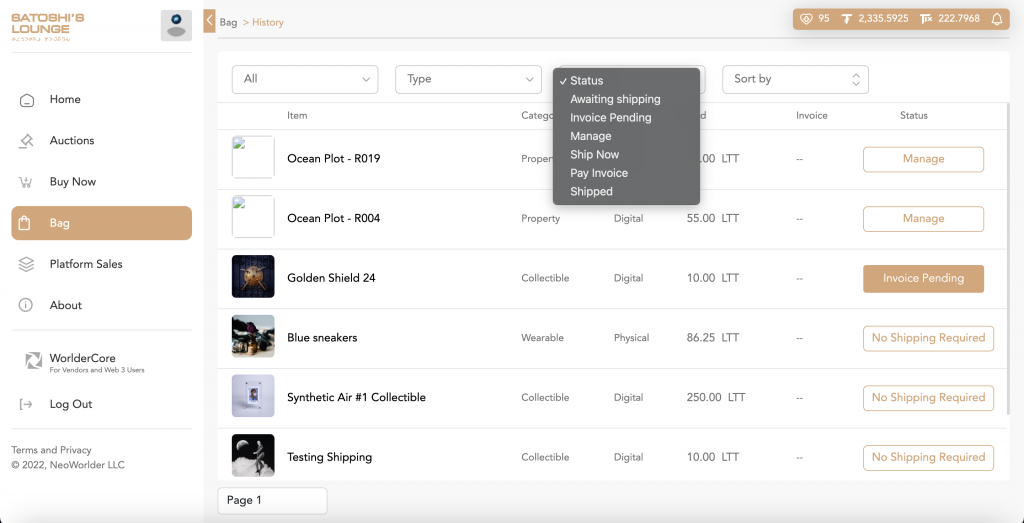 We've migrated the sales history feature to the left side menu under a new name, 'Platform Sales,' to make it easier to find. This is where you can view the platform's entire shopping history.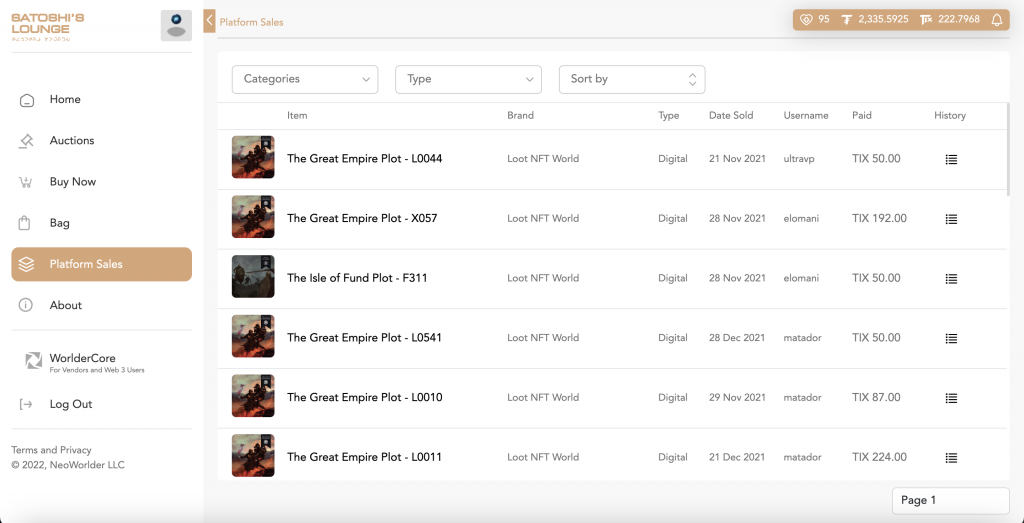 We've made an exciting update to our website's 'About' section. Instead of snippets of information in our footer menu, we've organized the content into one section with visually appealing blocks for each topic. This new format not only makes it easier to grasp the content at a glance but also makes the information more easily accessible, helping shoppers navigate the platform with confidence.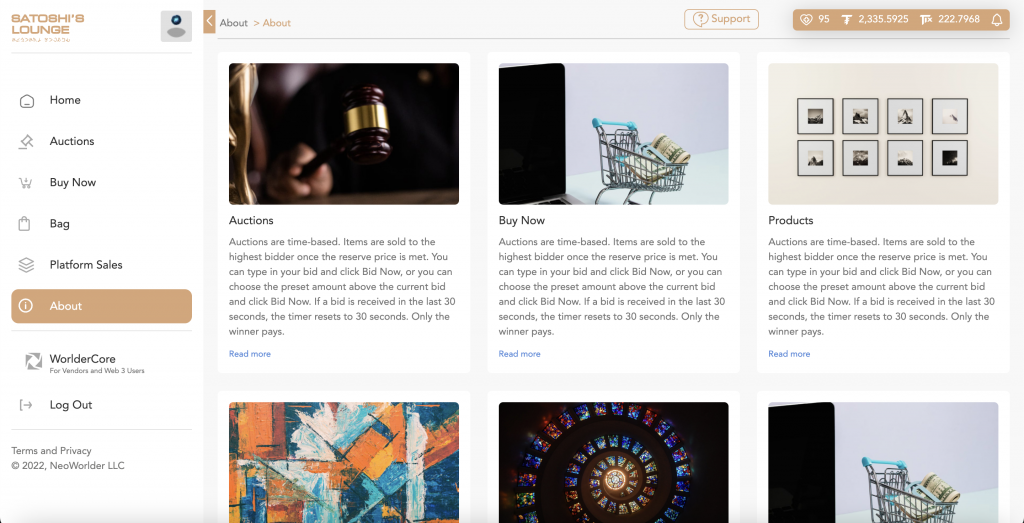 Satoshi's Lounge has been revamped to match the look of the Government site. This update brings a consistent look across all our platforms and ensures a streamlined shopping experience from product selection to checkout.

Read More: The Government Site: New and Improved