One year ago, we commenced a comprehensive project: the re-design and rebranding of our website interfaces. This initiative was undertaken to bring a new unified look to our websites and clean them up in terms of structure, design, and functionality, thereby offering a seamless user experience. Throughout numerous iterations and project phases—ranging from website messaging and visuals, design layout, and ensuring systemic compatibility with our backend infrastructures—we have now progressed to the final stages: testing the new sites within our staging environments.
Both the Government site and Satoshi's Lounge serve as our core sites, enabling humans to navigate, experience, and establish their presence within Lootverse and Arcadia, one among its many parallel worlds. The iterative process of site optimization has been a complex journey, involving many departments within the NeoWorlder team. This article will guide you through the new Government site.
Dashboard
Our Government site was inspired by Arcadia's ancient government. It is the gateway to Lootverse. Found in our virtual reconstruction of Lootverse, the Government site serves a pivotal role, facilitating humans in managing the lives of their drones in this parallel universe.
We've enhanced the Government with an exciting new interactive dashboard, designed to enhance your experience in Lootverse. We rank our top influencers based on their activities in Arcadia, and the new dashboard lets you easily see your position or the positions of others. You can also follow or mark the highest-ranked influencers directly from the dashboard.
Additionally, the dashboard shows all your recent activities and transactions in Lootverse. You can also receive useful tips to enhance your experience, from helpful hacks for finding the enigmatic Lootian gods to strategies that can help you slay the demons.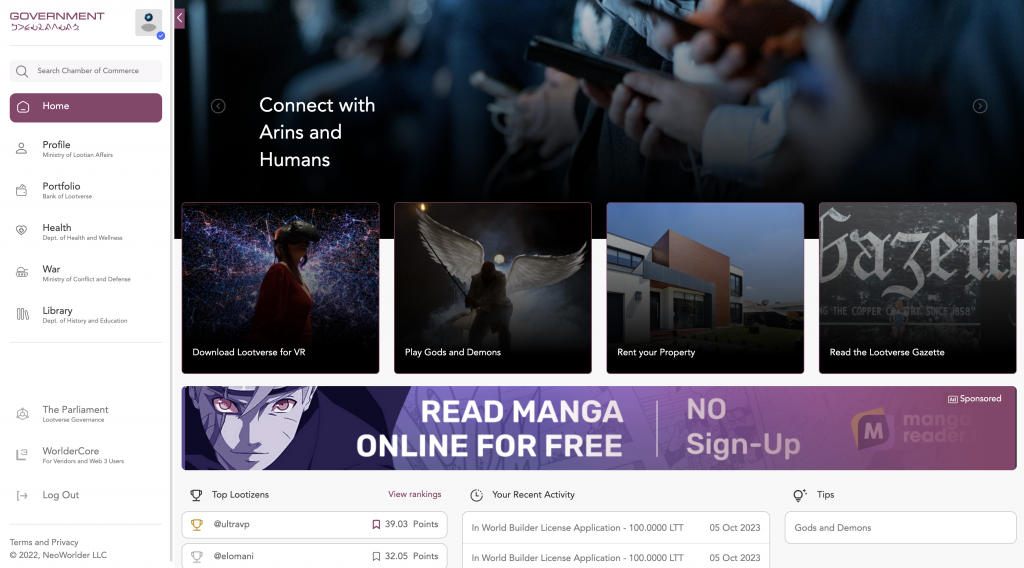 Profile
The profile menu lets you access your account information and your preferences.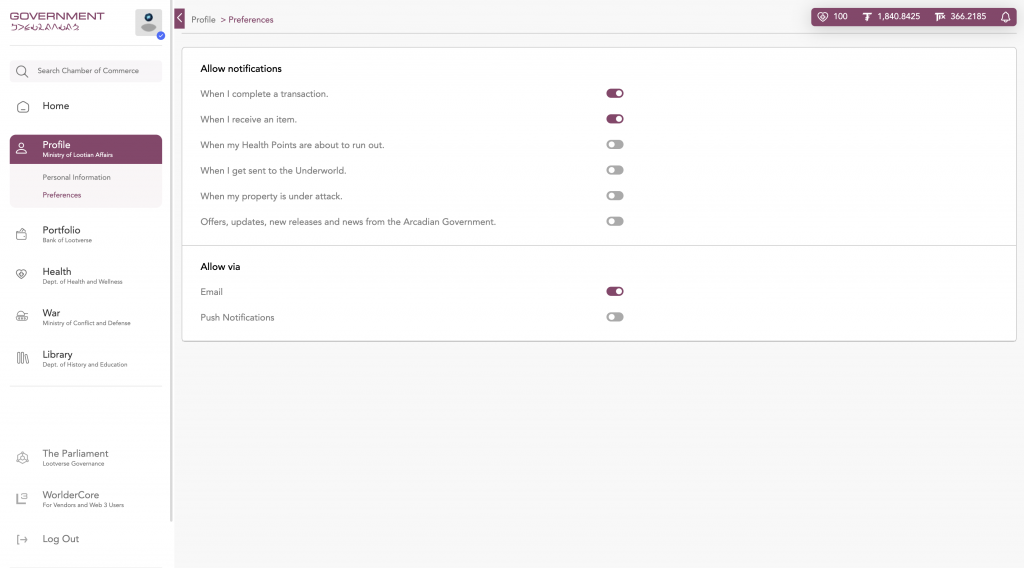 Portfolio
Everything you need to manage your wallet, Arcadian property, and assets is now conveniently located under the "Portfolio" menu. You can purchase Talos Dollars (formerly "Credits") and Talos Tickets (formerly Lootian Tickets) in this section. The summary dashboard provides a quick glance at all your currency balances and transaction history. Additionally, details about your properties, including districts, units, and buildings, as well as assets and global statistics, can be easily accessed in your portfolio. Note that the "Central Banking" and "Fund Management" functions have been removed from the Government site.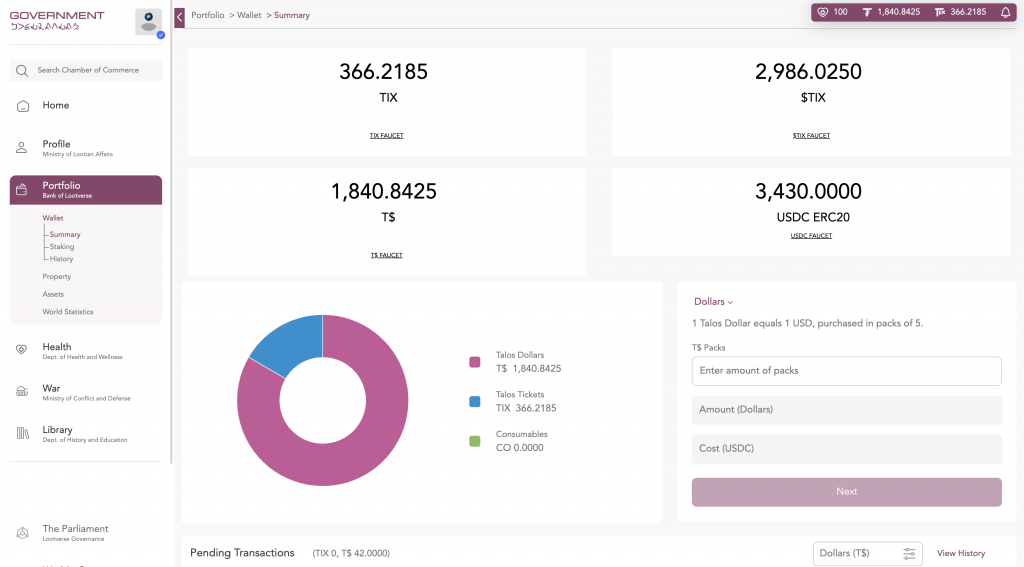 Health
In Lootverse, various life forms, like remote-controlled drones (i.e., avatars), intelligent entities (arins), and synthetic life forms (sylis) lose three health points daily. Our updated health dashboard now provides clear insights into the remaining days of your avatar or sylis, alongside your transaction history. Additionally, you can manage and access your pharmacy items all in one place, making health management straightforward and simple.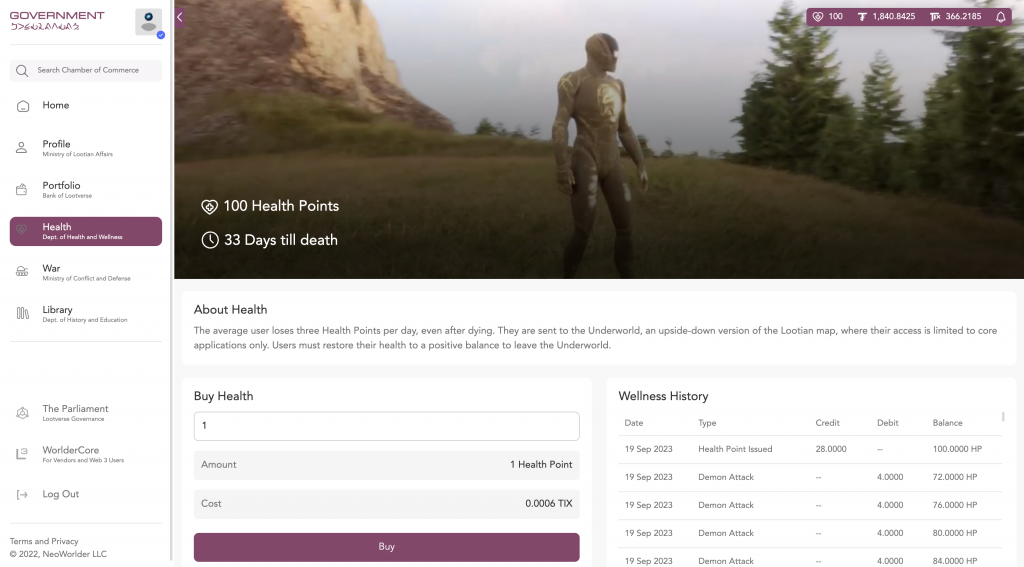 War
You'll soon be able to participate in war games in Arcadia! With our revamped War menu, you can easily start your own war or join an army as either an attacker or defender, all from your computer or mobile device. Winning a war game lets you claim a portion of your opponent's district economic activity. Additionally, you can manage your weapons and shields effortlessly in the "Armory" submenu to get ready for battle.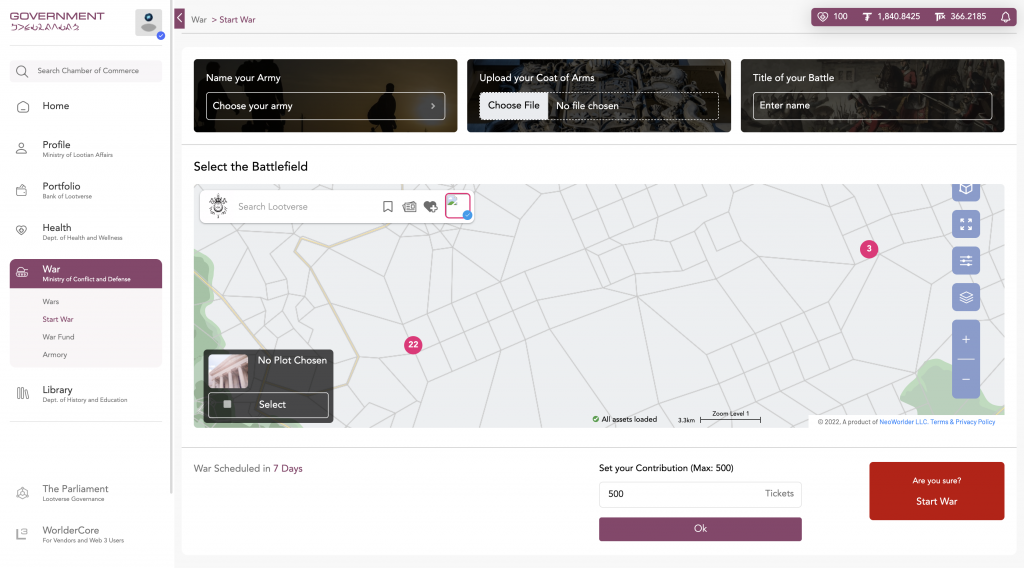 Library
Access the library for additional resources and guides.
New Search Bar
The Chamber of Commerce has been transformed into an intuitive search bar. Get access to all the latest properties and assets from one place.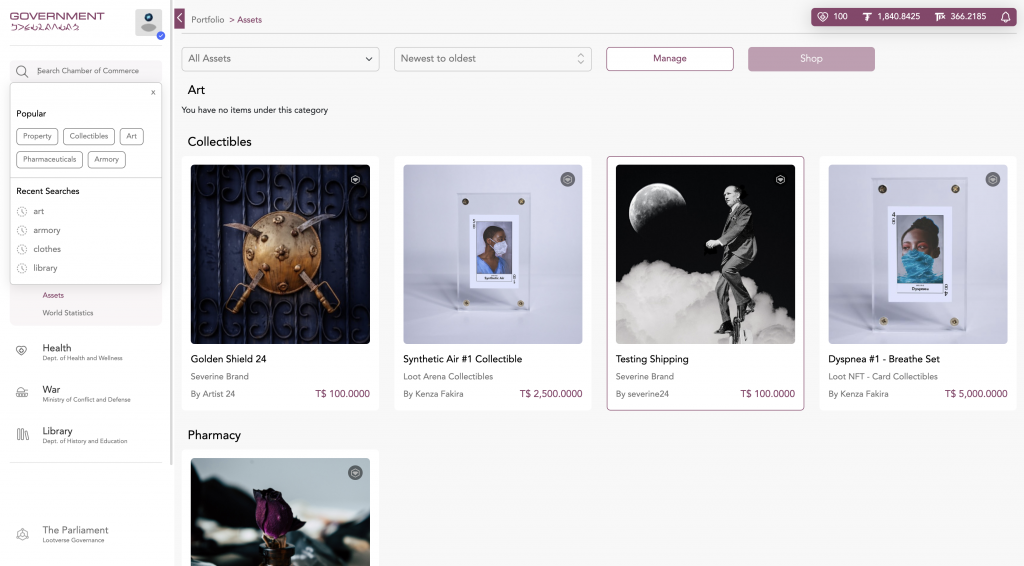 The Government site will enable you to manage your avatar's life in Lootverse effortlessly. It is currently undergoing testing and is only accessible in our staging environment. We are thoroughly assessing all of its functions. Stay tuned for its official release.